HVC continues providing and installing 220 Phu Quoc villa pools of Vingroup
22/06/2016 11:35
Recently, HVC has been quickening the pace to complete some categories of Vinpearl Phu Quoc project.
The first stage of the project was completed in November 2014. After Vinpearl Phu Quoc being put into operation, the statistics data has shown Vinpearl Phu Quoc resort is always the best choice of tourists once visiting Phu Quoc. Vinpearl Phu Quoc owns the modern style architecture, synchronized and word-classed infrastructure, lots of resort models, exotic amusement parks and five-star ranking services. With natural landscapes, green tree cover, blooming flowers and fresh cool air; all makes visitors feel the gentle tranquility and an exciting experience. Therefore, the number of 700 rooms is always in the "full room" status. This demonstrates a huge demand of amused tourism in Phu Quoc. Foreseeing this reality need, along with the increase of tourists demand, the owner has continued to implement the second stage of the project including a 500-room center hotel and 220 villas which each villa will be installed private pools equipped with smart swimming pool technologies in current market.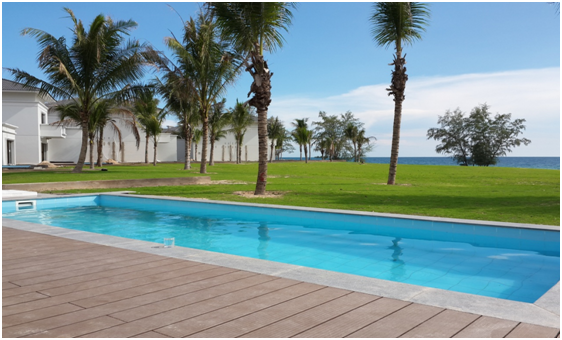 The model of smart swimming pool was installed by HVC at a villa of Vinpearl Phu Quoc
These days, HVC continues to sign in the contract with the owner - Vingroup in providing and installing 220 swimming pools belonged to 220 villas of Vinpearl Phu Quoc project. Implementation time is significantly quick with the pace of 3.5 months. Ensuring both project schedules and the quality of goods and services, HVC has directed all staff to complete successfully the second project stage. With many years of experience in our own market, HVC is completely confident to ensure finishing the project on committed time with the best quality. HVC always affirms "Golden Brand – The number one in the market of supplying and installing swimming pool equipment in Vietnam".